The plethora of choices when remodeling your kitchen can become a dilemma for most homeowners. To make the "big" selections a bit easier to understand, I divide them into 4 areas:
appliances that update the kitchen's functionality
cabinetry that becomes the "WOW" factor
counters that are unbelievably durable
flooring that holds up for years to come
It's all about the plan.
From the smallest galley kitchen to the large kitchen with multiple door entries, you always need a plan. A "red flag" will always go up for me as a designer when homeowners haven't bothered to get a solid, detailed space plan with details including cabinet specifics, installation and mechanical layouts, and a lighting plan. This is where a professional kitchen designer can keep homeowners from spending unnecessary time and money. From this detailed plan, a true budget and schedule can be established. The design details can be amazing, even for modest kitchen renovations!
Remember, the "wow" factor in modern kitchens is the cabinets.
So contrary to what most people are saying, I think it's an outdated, band-aid approach to plan a kitchen remodel without considering new cabinetry. Most quality, reputable cabinet manufacturers build cabinets without urea-formaldehyde glue (a well-known carcinogen!) and offer unbelievable finishes that include gorgeous walnut or cherry, timeless painted cabinets or the latest wood veneers that are exotic and engineered to last a lifetime. I also recommend that homeowners install the latest hardware on cabinets. Imagine doors and drawers that don't slam...what a concept!!
Drop us a note to let us know what made your kitchen remodel successful!
Studio 76 Kitchens & Baths, a design and cabinetry firm located in Cleveland and Columbus, has been awarded "Best of Houzz." The Houzz community bestowed the award on Studio 76 Kitchens & Baths for "best in customer service satisfaction."
"Houzz is the premier online community where homeowners can do research, visualize projects, search photos and find professionals," said Chip Tiber, owner of Studio 76 Kitchens & Baths. "In the early stages of building or remodeling, homeowners can identify our design firm as credible and experienced simply by reading the personal, unfiltered reviews on Houzz from past customers."
Studio 76 Kitchens & Baths has been in business since 1976, and its designers and craftsmen have remodeled hundreds of homes throughout Ohio. The kitchen and bath design firm's showroom is located in Twinsburg, Ohio; and the company has recently expanded into Central Ohio, opening a studio in Columbus.
"We really enjoy working with our clients through every stage of their kitchen or bath project. To receive this award from Houzz in customer satisfaction means so much to us," said Tiber.
For more information, a design consultation or showroom hours,email us via our contact page or call Studio 76 Kitchens & Baths at 330-487-1176.
We had our kitchen, dining area and family room renovated by Studio 76. The well trained and skilled team were very detail oriented and did an excellent job on our renovation. We spent much time with design and layout to assure each area was functional and diverse. We then chose appliances, flooring, cupboards and countertops. We saw samples of each and were made aware of product reviews.
The Studio 76 team was creative, innovative and worked well with us. We were impressed with their flexibility, patience and willingness to make this project perfect. The multidiscipline team was excellent at carpentry, electrical, and design. Great team and would contact them again for future projects.
- by brendaspear
See more reviews:
You have been scheming and waiting, perhaps doing other projects around the house that are more important first. Now it's time to focus on your master bathroom.
This is a one-time remodel project, and you want to get it right the first time. So what are the characteristics that homeowners find most satisfying in their master bath remodels (e.g. what people love about their new bathrooms)?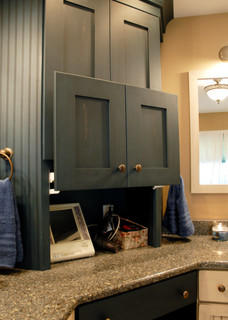 Heightened Comfort
Consider a 34 1/2" high vanity. Be sure to get a toilet that is a comfortable height. Consider raising the shower valve and shower head higher.
Smart Storage
Storage options that not only look good, but also allow for easy everyday access of product you use daily. If in the remodel you are tearing out the old linen closet, consider extra built-in cabinetry or baskets displaying rolled up linens.
Plug & Hide
If you have two sinks and can spare 15-18 inches in between sinks, look into a countertop cabinet with a lift door. With an outlet installed inside the cabinet, you now have a use-and-stash option for hair appliances, shavers, phone chargers and more.
Make it Last
Clean, simple lines used with classic elements help a design withstand the passage of time. Color palettes evolve: bring color in through paint, fabric and accessories. Do your best to avoid trends in product and design.
Those are just four ideas for your master bathroom remodel. Watch for Part 2 & Part 3 - more tips for a great master bath that will satisfy for years to come.
We're continuing our 3-part series on what homeowners love about their master bathroom remodel. Before you begin your bath remodeling project, you will want to consider every option and be aware of new features in modern bathrooms.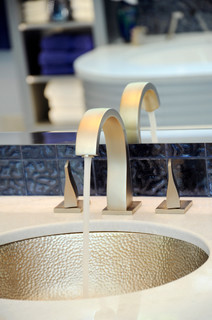 So we'll offer four more recommendations from our designers and homeowners:
Warm & Cozy
Tile is cold! Electric warm wire floor heat is less expensive than you may think. You'd have to do some heavy research to find any real regrets with a heated floor.
Slow Down
Add soft-closing drawer glides for cabinet drawers, soft-closing cushions for the cabinet doors and a slow-closing seat for the water closet. There are even soft-close glides for pocket doors.
Savvy Safety
Grab bars are far more common today even among the young and healthy. There are designer grab bars that match the finish and style of your faucets. No need to sacrifice aesthetics for safety!
On the Shelf
Shelves can be a nice-looking, functional feature in the shower. Whether it's a framed out shelf on the back wall or opposite wet wall, a floating corner shelf, or a niche, a properly designed shelf is the way to go. Floating shelves in other locations can add character and interest.
So what have you chosen to implement in your bath remodel plans so far? What can you not live without? What will make you smile each day and think "I'm so glad we went with _____________." We'd love to hear your feedback on our Studio 76 Kitchens and Baths Facebook page.
We'd like to offer you the "final four" ideas in this 3-part master bath mini-series. Our homeowners found it a great help to have our recommendations and lists of things to consider. Just as they did, you need to be informed to make the best decisions and get the most for your money.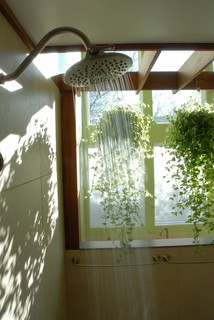 Heads Up
In many showers you will find a single fixed head, a hand-held, or both. If you opt for both, be sure to get a 2-in-1 valve that keeps the wet wall uncluttered. Be sure your main shower head offers decent coverage and has an optional function for pressure.
Your Style
Prior to remodeling consider the items and colors already in your home. Make sure your choices fit your personality. Your style need not be sacrificed for the sake of comfort, convenience and safety. The end result should create a balance of form and function.
Priceline
No matter which design elements or products you choose, a good design will keep you informed: from labor cost to product cost, know where your money is going.
Timeline
Simply put, doing it right is more important than doing it fast. Understand somethings cannot be predicted. Give your contractors a little extra buffer in the timeline.
Once you've considered all of these "comfort" features, then you can price them out and choose which ones to add to your remodel. Next steps: begin selecting colors, styles and stains. Good luck!
If you're looking for more design inspiration, we recommend Houzz.com for all your visual inspiration and dreaming pleasure.